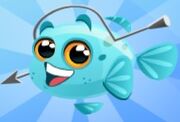 "This hilarious fish loves to laugh. It'll do what it can to put a smile on your face, and with the assortment of terrific tricks, that won't take very long."-Baby Fish Cataloag
Breeding Time: 1 hour
Cost: 228 pearls
It can be bred with a combination of nice and smart traits.
Or by selecting the Nice Fish to breed with The Smart Fish.
No Title

No Title

No information
Ad blocker interference detected!
Wikia is a free-to-use site that makes money from advertising. We have a modified experience for viewers using ad blockers

Wikia is not accessible if you've made further modifications. Remove the custom ad blocker rule(s) and the page will load as expected.