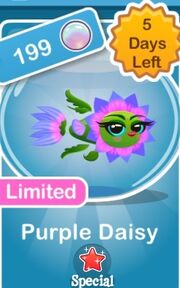 This Fish is limited and will disappear on the: 14/4/13, on a Tuesday, at 11:59PM. This all means it has 5 days left in the market*
In Game Description
Edit
This daisy is the Prettiest flower in the field; watch out, or she might just Rob your heart!
How To Breed
Edit
Breed a Robber Fish and a Pretty Fish in the Breeding Shell.
Breeding Time and Hatching Time 8 hours breeding and 4 hours hatching
Ad blocker interference detected!
Wikia is a free-to-use site that makes money from advertising. We have a modified experience for viewers using ad blockers

Wikia is not accessible if you've made further modifications. Remove the custom ad blocker rule(s) and the page will load as expected.